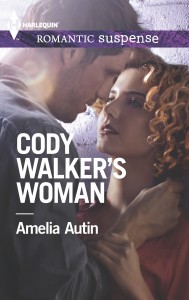 October 2014!

A THRILLING MAN ON A MISSION TALE!

WORKING UNDERCOVER WITH THE LAST MAN SHE SHOULD TRUST…

Rescuing a "civilian" blew his latest undercover op—but when Special Agent Cody Walker next met the damsel in distress, he was astonished to discover she was a fellow agent! Now they are assigned to the same task force to track down a terrorist cell that has a personal connection to Cody's past…

While Keira is grateful to Cody, she's determined to prove she can handle herself professionally. But their sizzling chemistry is making it hard to keep things quiet. And as they hunt down the would-be terrorists, they are getting closer—and more personal—than ever…

Click to read an excerpt!

What are reviewers saying about Cody Walker's Woman?
"… As they get closer to finding out who and why, the danger becomes more intense. The final confrontation had me reading as fast as I could to see how it was going to turn out and really worried for Keira. The ending was fantastic and I loved the solution that their boss came up with so that Cody and Keira could be together…"
Read the "5 books" review on Susan's 2014 Reading Blog
"…A tough, protective hero in Cody is appealing, as is the fiery chemistry between him and Keira…"
Read the 4-star review from RT Book Review

Cody Walker's Woman is still available from your favorite online booksellers! Amazon, Barnes&Noble, and BooksAMillion.