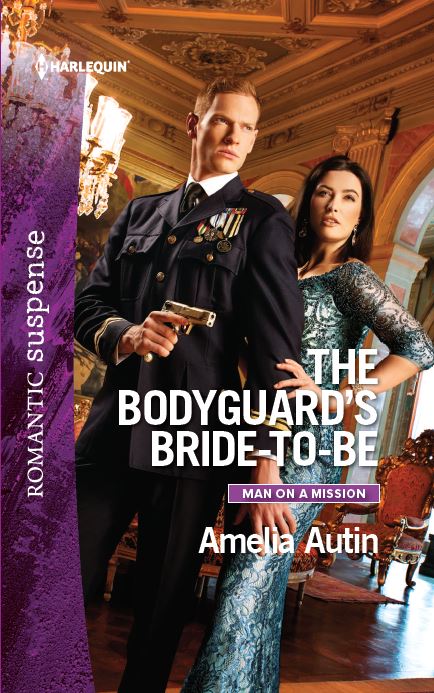 November 2016!

A PRETEND ENGAGEMENT SUDDENLY BECOMES VERY REAL…AND DANGEROUS, IN THIS THRILLING MAN ON A MISSION TALE

When Tahra Edwards sees a suspicious knapsack near a school yard, she leaps into action…and saves children from a bomb. But upon awakening in a hospital, Tahra discovers she's lost her memory—including any recollection of the handsome military captain who says he's her fiancé. A charming alpha hero who seems to be hiding something…

As a high-level bodyguard, Marek Zale knows that a ruthless terrorist organization will stop at nothing to silence Tahra—his ex-girlfriend—permanently. To protect her, he must be by her side around the clock. And though he may not be telling her the truth about their engagement, their love for each other was always true…as is the danger threatening them both!

Click to read an excerpt!

What are reviewers saying about The Bodyguard's Bride-To-Be?
"…Amelia Autin skillfully entwines danger and emotional issues to create an enthralling romance…"
"…Between the looming threats of future risks and the numerous personal challenges Marek and Tahra must confront, I was captivated all the way through the latest Man on a Mission story…"
Read Amelia Richards' 5-star review on AlwaysReviewing.com
"…The suspense of the story was fantastic. What struck me first was how similar it was to what is happening in the world today. From the moment of the first bomb blast, it is an intense journey to discover who and why…"
"…I loved the depth of emotion that was evident throughout the story… But most of all, the intensity of the love between Marek and Tahra, even through their darkest moments, was a glowing beacon of hope for their future…"
"Read the "5-books" review on Susan's 2016 Reading Blog

"…The intense crescendo to the suspense is filled with high energy and deadly force…"
"… An engaging, thought-provoking, intriguing tale…"
Read the "Four Spoons" review on BooksandSpoons.com

"…The story kept me turning the pages, as the raw tension, the danger, the romance kept me enthralled…"
Read the "Recommended" 4-star review on the Amanda Writes Blog

The Bodyguard's Bride-to-Be can be ordered from these retailers: Amazon, Barnes&Noble, BooksAMillion, and eBooks.